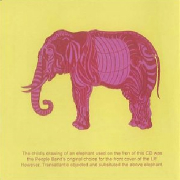 The child's drawing of an Elephant used on the front of this CD was the People Band's original choice for the front cover of the LP. However Transatlantic objected and substituted with this elephant image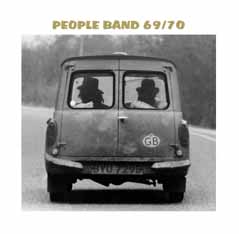 People Band  1969/70, Previously unreleased material. Double album CD of music from 1969/70. Tracks from in the studio in the woods & Amsterdam & other places.
EMANEM 5201
.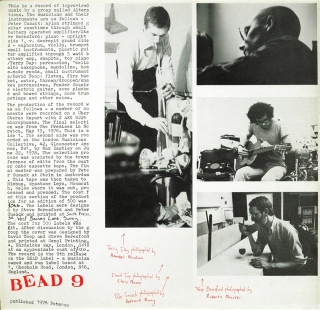 Alterations.
Bead 9
. Recorded 1978. Steve beresford, David Toop, Peter Cusack, Terry Day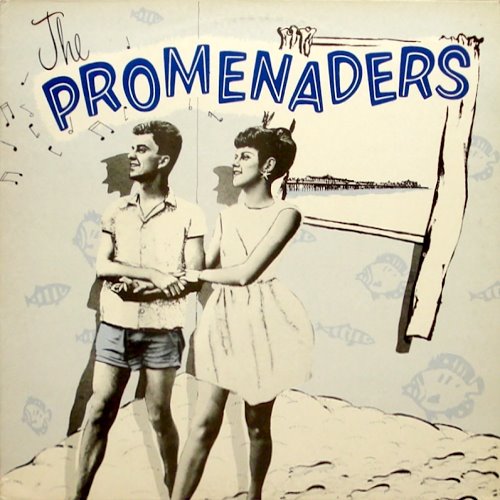 The Promenaders, Loxhawn Rondeaux (Lol Coxhill), soprano saxophone, vocals; Stuart Barfoot (Steve Beresford), euphonium, vocals; Steve Topp (David Toop), one string violin; Mike Simple (Max Eastley), one string violin; Derek Nyte (Terry Day), cello, percussion; Andre (Peter Cusack), guitar; Paulo 'sticks' Birrelli (Paul Burwell), drums; Violet Nightingale, guest chanteuse on 'Moon river'. Recorded live on Brighton Beach, probably 1981.
Promenaders. Film of promenaders for Channel 4. Recorded & filmed 1981.
Davey Payne. Davey Payne.
Stiff Records
New York 1981. Unreleased.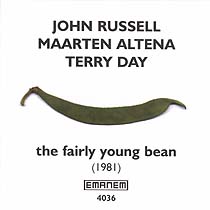 The Fairly Young Bean - trio with John Russell & Maarten Altena. Recorded 1981.
EMANEM 4036
Altena, Russell, Day. Recorded 1982 for John Russell, Roger Turner,
Anthony Wood
records. Unreleased.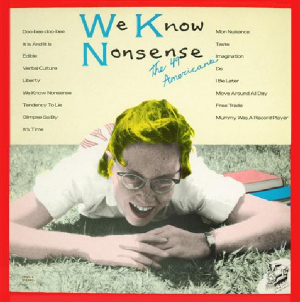 The Forty Nine Americans. We know Nonsense. Chug 4. 1981. (1982 Quartz)
Side 1. Solo multi-tracking plus Katie Perks, Jerry Hunt.
Side 2. Solo multi-tracking plus Davey Payne, Charlie Hart, Paul Jolly,
Ed Deane
.
Horizon. Notes compilation cassette 1985. Produced by Phillippe Renaud 14 Allee des Myosotis 41000 Blois, France (Sweet Albert Ayler solo piano, solo alto).
Alterations. Raging Spool. N.M.E. 014. Recorded 1984. Compilation cassette
Summer. Film for Channel 4. Music by Mike Figgis including George Khan, John Porta, Terry Day. (1984).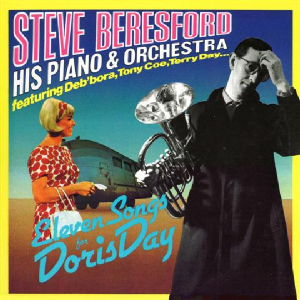 Steve Beresford His Piano Orchestra, featuring Deb'bora, Tony Coe, Terry Day
Eleven Song's for Doris Day. Jean Rochard's Chabada label. Recorded August 1985.
Eleven songs for Doris Day
Frog Dance. Film of Lol Coxhill including the Promenaders. 1985.
Dead Pidgeon. Film by Richard Philpot. Music by Max Eastley Paul Jolly, Terry Day.
Nato Callings. Nato & Chabada sampler. Recorded August 1985. Deb'bora, Steve Beresford, Terry Day (Lyrics).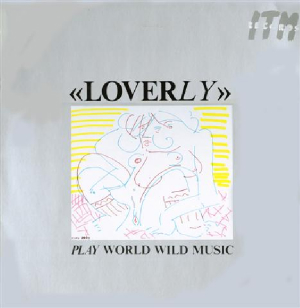 Loverly. I.T.M. 1986. Maggie Nichols, Mel Davis, Paul Jolly, Chris Puleston, Tim Powell, & Terry Day cover design..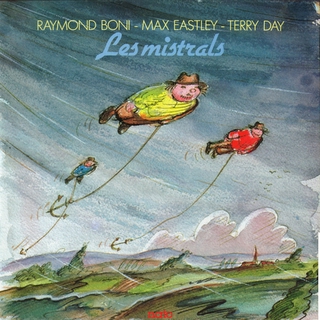 Les Mistrals. Recorded for Nato July 1986. Raymond Boni, Max Eastley, Terry Day. jazz.discogs.com/release/745628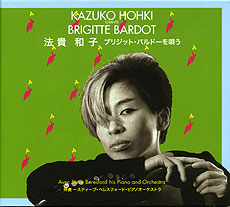 Kazuko Hohki chante Brigitte Bardot. With Steve Beresford his piano & orchestra, Annie Whitehead, Tony Coe, Jean Mereu, Cyril Lefebvre, Olly Blanchflower.
Nato 1986
.
ALTERNATE CAKE: various artists
Jean-Francois Pauvros: guitar; Arto Lindsay: guitar; Terry Day: drums.
1986 - (France), Nato 824 (LP)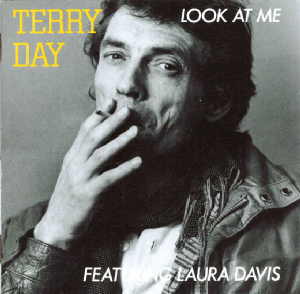 Look At Me. Nato 1987. Tony Hymas, Tony Coe, Jean-Francios Pauvros, Max Eastley, Laura Davis, Chris Laurence, Jean-Pierre Arnoux, Yves Robert, Ed Deane, George Khan, Jean Mereu, Mal Davies. Album of my songs. Les Allumes Du Jazz.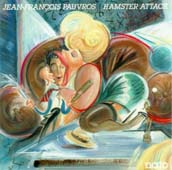 Hamster Attack
Nato 1544, LP 1987; CD 1992
Jean-Francois Pauvros, Terry Day, Julian Fenton, Mary Genis, Martin Lawrence, Evan Parker, Frank Ricotti, Stan Sulzmann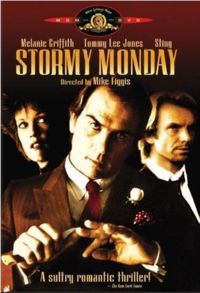 Mike Figgis film
Stormy Monday
. 1988 Two tracks with the Krakow Jazz Ensemble. Charlie Hart bass, Davey Payne sax, Mel Davis piano, Paul Jolly sax, Terry Day drums.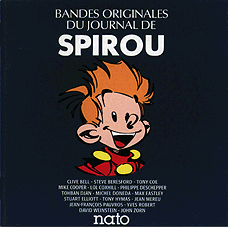 Spirou
Various musicians
A 2-CD set (formerly released as 2 LPs) intended as a kind of soundtrack for the characters that appear in the magazine Spirou:
Max Eastley, Arc, ukelele, guitar, keyboards, percussion; Terry Day, percussion, balloons; Michel Doneda, soprano saxophone; Jiair, voice; Liria Marre-Eastley, voice: Il est minuit Docteur Poche (05.37).
Recorded at Dave Hunt Audio Engineering.1989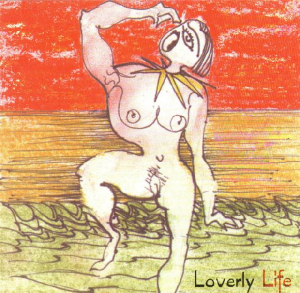 Loverly Life
- the Lovely Band
33 Records
. Yadley & I make guest appearances on a number of tracks . Yadley plays percussion & vocalises. I play Bamboo pipes, percussion & also vocalise . produced by Lovely for 33 records 33WM 111
LC5469. PRS/MCPS 1999.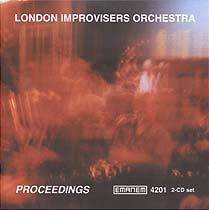 The
London Improvisers Orchestra
is pretty much what it says .1999
EMANEM 4201
(double CD)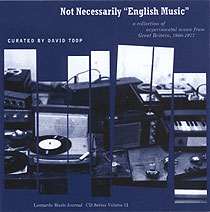 Electronic Music Foundation 2001? Not necessarily "English music" Curator David Toop. Various Musicians Track 12. The People Band [Terry Day; Mel Davis; Lyn Dobson; Eddie Edam; Tony Edwards; Mick Figgis; Frank Flowers; Terry Holman; Russ Herney; George Khan]: Part 3 (06.42); recorded London on 21 March 1968.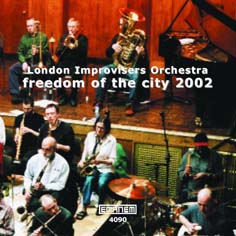 London Improvisers Orchestra -- Freedom of the City festival 2002 at Conway Hall.
Conduction and recitation of my lyric 'RUTHLESS'.
EMANEM 4090
.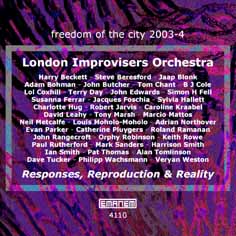 London Improvisers Orchestra - Responses, Reproduction & Reality.
Freedom of the City 2003-2004 festivals at Conway Hall . I appear on 2004 festival
EMANEM 4110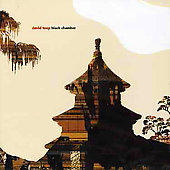 David Toop - Black Chamber Label Sub Rosa, 2003
Woodwinds [Bamboo Reed Pipes] - Terry Day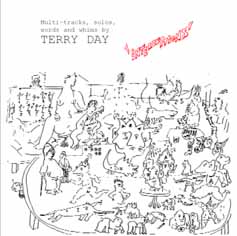 INTERRUPTIONS - Terry Day solo & multitracked pieces - plus three punk songs featuring Pete Cusack & Davey Payne.
EMANEM 4125
. Original. Domestic music No1. recorded 1982. Solo Multi-Tracked cassette album. 2006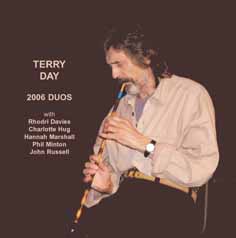 TERRY DAY
2006 DUOS
EMANEM 4137
TERRY DAY bamboo pipes, voice, etc
CHARLOTTE HUG
viola, voice [1]
RHODRI DAVIES harp [2]
PHIL MINTON
voice [3]
HANNAH MARSHALL cello [4]
JOHN RUSSELL guitar [5]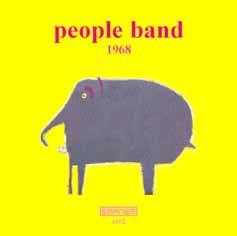 People Band 1968 album - reissue plus out-takes 2004. Recorded at Olympic studios.
Produced by Charlie Watts. EMANEM 4102. Original LP. Transatlantic TRA 214. Mel Davis, Terry Holman, George Khan, Frank Flowers, Tony Edwards, Mike Figgis, Eddie Edam, Russell Hardy, Lyn Dobson. Produced on my request by Charlie Watts of the Stones.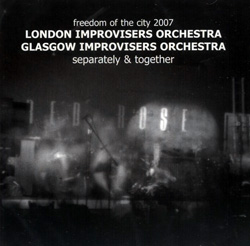 LONDON & GLASGOW IMPROVISERS ORCHESTRAS "Separately & Together"
(2007)
EMANEM 4219
The whole of a 2007 FREEDOM OF THE CITY festival concert which was the first meeting of these two orchestras.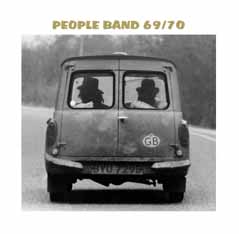 People Band  1969/70, Previously unreleased material. Double album CD of music from 1969/70. Tracks from in the studio in the woods & Amsterdam & other places.
EMANEM 5201
.